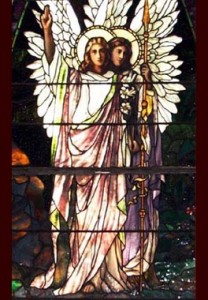 Founded in 1966, the North Randolph Historical Society seeks to ensure the preservation of St. Paul Methodist Episcopal Church and Randolph County's rich history by collecting, preserving, exhibiting, and interpreting archival materials and physical artifacts associated not only with the history of northern Randolph County, but also with the larger Randolph County community. "Click" on "Activities" for a listing of programs and when the museum will be open. Check out our gift shop, history page, and donate page. As always, we welcome your comments. (See "Contact Us" page)
2018 Programs in the Planning Stage

The St. Paul Museum is in the process of planning our programs for 2018 with several exciting prospects including the history of Craven Pottery, the story of Naomi Wise, how to do genealogy research, honoring our veterans, etc. Stay tuned as we finalize our plans.

Early Medical Professionals
The Randleman area was home to many medical professionals as listed below:
A. Woollen, MD (1836 – 1903)

John Wesley Long, MD (1859 – 1926)

O. Walker, MD (1866 – 1907)

Dennis Fox, MD (1867 – 1950)

William Isham Sumner, MD (1869 – 1926)

Charles Edgar Wilkerson, MD (1879 – 1934)

Thomas Leck Helms, MD (1886 – 1948)

Emmett Ashworth Sumner, MD (1900 – 1969)

Brent Byrd Hanner, RN (1926 – )
Dr. W.A. Woollen married Parthenia Coltrane and they had four children; Mary Eliza, Epsie, John, and Rosabel. He and his wife are buried in the St. Paul cemetery,
Dr. John Wesley Long was born at Long's Mill, Randolph County, son of Dr. Wesley (a general practitioner) and Martha Troy Long. He graduated from Vanderbilt University Medical School and the University of Nashville. He returned to Randleman and married Mary Eliza Woollen, daughter of Dr. W. A. Woollen. In 1903, he moved to Greensboro and helped establish the Wesley Long Hospital in 1917. After WWI, he returned from France to oversee reconstructive surgery at Camp Gordon, Georgia.
Dr. J.O. Walker, was the son of James Edward and Frances Burkhead Walker. He graduated from Vanderbilt University and later married Katie Scroggs, who was an organist at St. Paul. He practiced medicine in Randleman and is buried in the Walker Plot in the St. Paul Cemetery.
Dr. William Isham Sumner married Amanda Allred and moved to Randleman where he lived all of his life. They had three children. He was a member of the St, Paul Methodist Episcopal Church and is buried in the St. Paul cemetery.
Dr. Charles Edgar Wilkerson was a native of Tennessee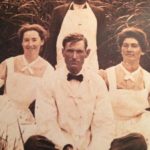 and graduated from the University of Nashville, NYU, and Columbia University. He began his practice in Worthville in 1908. He went to Africa as a medical missionary and returned to Randleman in 1917. His wife was a nurse, administrator, and anesthetist. He built a hospital at Brown's Crossroads which still stands today as a private home.
Dr. Thomas Leck Helms married Lena Kate Brown. He practiced in Randleman on Academy St. He is buried in Oaklawn Cemetery in Asheboro where he was instrumental in starting this cemetery.
Dr. Emmett Ashworth Sumner was the son of Dr. W. I. and Amanda Allred Sumner. He graduated from UNC and Baylor University Medical School. He married Gertrude Rea who died in 1949 and he later married Mary Whitely. He practiced at High Point Memorial Hospital for 27 years as Chief of Staff. He is buried in the St. Paul Cemetery.
Brent Byrd Hanner, RN, is a graduate of the Presbyterian School of Nursing. She served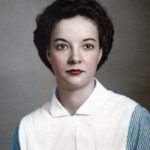 at Randolph Hospital in surgery, the Delivery Room, Nursery, and Private Duty. She later served at the Randolph County Health Department as a Home Health Nurse and as Director of Nursing for 10
St. Paul Museum Studied by UNCG Department of Interior Architecture
In March, a graduate class from the Department of Interior Architecture at the University of North Carolina at Greensboro, headed by Professor Jo Leimenstoll, M. Arch., visited the St. Paul Museum. The purpose of the visit was to study the museum through photographs, architectural plans and interior sections. The class also carried out a conditions assessment of the building. Furthermore, they created a digital rendering of the trompe l'oeil murals on the north wall to highlight the artwork of Jule Gilmer Körner and present what it may have looked like in its original state. This study also included a virtual 360° view of the sanctuary interior.

In the Conditions Assessment, it was noted that the overall deterioration of the interior of St. Paul's Church is minimal, and is mostly caused by weathering and natural causes, due to lack of maintenance for an extended period of time. (Note that the building was abandoned from 1951 until 1966.) This has caused moisture to infiltrate the building, and cause damage to the plaster and paint on the walls and windows. Additionally, the building may have suffered from excessive weight on non-load bearing walls, contributing to the deterioration. Click on the link to view the Conditions Assessment. St. Paul's Church Architectural Study
The class also completed a 360º virtual tour of the museum. (Click "Here") (Note that this is not to scale, does not show the contents of the museum, and only the north wall is shown with the trompe l'oeil murals completed by Jule Körner.)
In addition to Professor Leimenstoll, we would also like to thank the following students for their hard work in this study: Christopher Ford, Isabel Leon Villasmil, Carolina Marty Matos, Jessica M. Ocasio, Mélia Soulier Parizel, and Christopher Vann,
St. Paul Restoration Project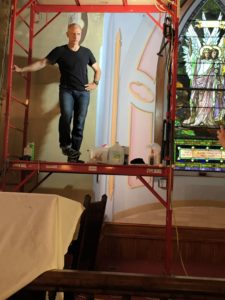 One of the goals of the North Randolph Historical Society is to not only preserve the church but to restore it to its former glory. Jule Gilmer Körner (Ruben Rink), a well-known North Carolina artist of the day, painted the walls of the sanctuary with beautiful and airy designs of draperies, columns, the 10 commandments, and the Lord's Prayer. The North Randolph Historical Society wants to restore the beauty of these paintings so we have hired Mr. Andrew Compton, an architectural paint conservator, who has worked at the U.S. Capitol and at George Washington's home at Mount Vernon. Mr. Compton has finished restoring the apse of the church and has started restoration of the walls on either side of the apse. He has discovered 22K gold leaf under many layers of paint and in the video presentation of Mr. Compton's work, you will note the dramatic difference where he has restored a small area surrounding one of the painted columns on the wall. (NOTE: Because of the size of the church, the lighting for this video was a "challenge".) Click "Here" for the video.

Donations are needed to help us finish this goal. Click "Here" for more information about this restoration. Please see the "Donate" page if you wish to contribute.
Museum Matters: The fascination of old cemeteries

Few can deny the charm of old cemeteries, particularly those connected with long-standing churches. While the variety of tombstones will catch the eye, a walk among them will provide both information, local history and even the occasional mystery. Such is the case with the St. Paul cemetery in Randleman. The following is a story of our cemetery written by society member Peggy Woodlief. ("Click Here")
St. Paul Now Listed on the National Register of Historic Places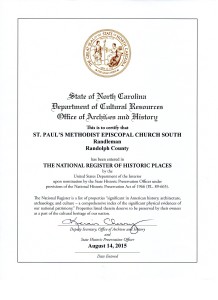 The St. Paul Museum is now registered in the National Register of Historic Places which is a list of properties that are significant in American history, architecture, archaeology and culture. We are proud of this recognition and thank the many people involved in this effort. (Click "here" for Asheboro Courier-Tribune article)

Pictures from the past

The St. Paul Museum recently received some pictures and we need your help if you can identify where they were photographed. You can view the pictures on our 'Picture Gallery' page. If you are able to help, please send contact us as shown on the 'Contact' page.