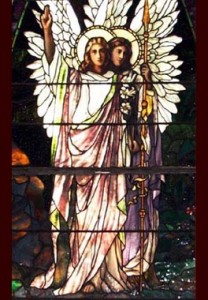 Founded in 1966, the North Randolph Historical Society seeks to ensure the preservation of St. Paul Methodist Episcopal Church and Randolph County's rich history by collecting, preserving, exhibiting, and interpreting archival materials and physical artifacts associated not only with the history of northern Randolph County, but also with the larger Randolph County community. "Click" on "Activities" for a listing of programs and when the museum will be open. Check out our gift shop, history page, and donate page. As always, we welcome your comments. (See "Contact Us" page)
Annual "Cemetery Walk" Rained Out!

Mother Nature brought us some much needed rain but unfortunately it washed out our annual cemetery walk. However, we have rescheduled this program for October 15, 2017. We will be open from 2:30 – 4:30pm. (Again no rain date)

St. Paul Restoration Project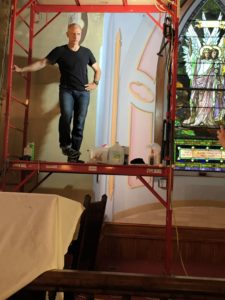 One of the goals of the North Randolph Historical Society is to not only preserve the church but to restore it to its former glory. Jule Gilmer Körner (Ruben Rink), a well-known North Carolina artist of the day, painted the walls of the sanctuary with beautiful and airy designs of draperies, columns, the 10 commandments, and the Lord's Prayer. The North Randolph Historical Society wants to restore the beauty of these paintings so we have hired Mr. Andrew Compton, an architectural paint conservator, who has worked at the U.S. Capitol and at George Washington's home at Mount Vernon. Mr. Compton has finished restoring the apse of the church and has started restoration of the walls on either side of the apse. He has discovered 22K gold leaf under many layers of paint and in the video presentation of Mr. Compton's work, you will note the dramatic difference where he has restored a small area surrounding one of the painted columns on the wall. (NOTE: Because of the size of the church, the lighting for this video was a "challenge".) Click "Here" for the video.

Donations are needed to help us finish this goal. Click "Here" for more information about this restoration. Please see the "Donate" page if you wish to contribute.
St. Paul Museum Celebrated Its 50th Anniversary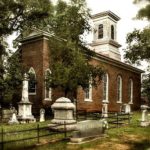 St. Paul celebrated its 50th Anniversary of the founding of the North Randolph Historical Society on June 25th and 26th. Louise Hudson, one of the founders of our society, spoke about the history of the St. Paul Church and about the history of our society and its many accomplishments. Click "Here" for story about St. Paul church that appeared in the June 12th Courier-Tribune newspaper.
Annual "Cemetery Walk" Held at Museum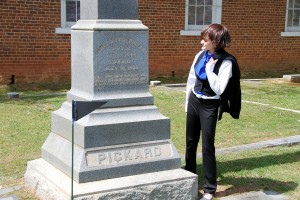 Back by popular demand, the St. Paul Museum, with help from the Randleman High School Drama Class, hosted another Cemetery Walk at the museum on April 10th. Students portrayed the following historical Randleman citizens who are buried in our cemetery.
Peter Clark, (1834 – 1878) Brick mason for St. Paul Methodist Episcopal Church, born in Ireland, immigrated to Brooklyn, NY, died before church was finished;
John B. Randleman, (1827 – 1879) textile manufacturer, helped fund the building of the church;
John H. Ferree, (1839 – 1898) textile manufacturing, partner with John Randleman, also helped fund the church building;
William 'Billy' Brown, (1870 – 1932) Carpenter, built several houses on High Point Street, willed his home for church parsonage;
J.W. 'Bud' Glenn, (1885 – 1962) merchant, store owner;
Della Young Glenn, (1889 – 1937) wife of J.W. Glenn;
James O. Pickard, (1844 – 1900) co-owner of Naomi Mills;
Glenna Lassiter, (1898 – 1987) Randleman elementary school teacher for 54 years;
Mary Alice Farlow Lassiter, (1882 – 1950) homemaker;
Click "Here" for a video tour.

Museum Matters: The fascination of old cemeteries

Few can deny the charm of old cemeteries, particularly those connected with long-standing churches. While the variety of tombstones will catch the eye, a walk among them will provide both information, local history and even the occasional mystery. Such is the case with the St. Paul cemetery in Randleman. The following is a story of our cemetery written by society member Peggy Woodlief. ("Click Here")
St. Paul Now Listed on the National Register of Historic Places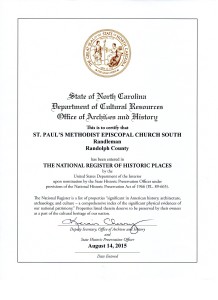 On August 14, 2015, the St. Paul Museum was entered in the National Register of Historic Places which is a list of properties that are significant in American history, architecture, archaeology and culture. We are proud of this recognition and thank the many people involved in this effort. (Click "here" for Asheboro Courier-Tribune article)

Pictures from the past
The St. Paul Museum recently received some pictures and we need your help if you can identify where they were photographed. You can view the pictures on our 'Picture Gallery' page. If you are able to help, please send contact us as shown on the 'Contact' page.