Welcome to the new St. Paul Museum website! Check out our gift shop, history page, donations and contact page. As always, we welcome your comments. (See "Contact" page)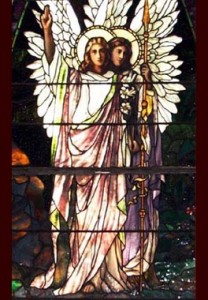 Founded in 1966, the North Randolph Historical Society seeks to ensure the preservation of St. Paul Methodist Episcopal Church and Randolph County's rich history by collecting, preserving, exhibiting, and interpreting archival materials and physical artifacts associated not only with the history of northern Randolph County, but also with the larger Randolph County community.
St. Paul Celebrates NASCAR Days
The St. Paul Museum celebrated NASCAR Days with camp cooking that included peach cobler and cherry / pineapple cobbler, fresh apple cider pressed from our antique press and ghost stories. Thanks to our many visitors that helped us celebrate.
Original Sign Restored
The original metal sign that first marked the St. Paul Museum has been restored and erected on the east side of the museum. Our thanks to Brady Signs who helped us with this project.
Pictures from the past
The St. Paul Museum recently received some pictures and we need your help if you can identify where they were photographed. You can view the pictures on our 'Picture Gallery' page. If you are able to help, please send contact us as shown on the 'Contact' page.
St. Paul Restores Paintings by Julia Antoinette Ferree Ingold

St. Paul Museum has had two paintings by Julia Antoinette Ferree Ingold restored to their original condition. The first painting, titled "Mountain of the Holy Cross", is a copy of the original painting by Thomas Moran, a famous western artist. The second painting is titled "Girl with Lute". Julia is the daughter of John H. and Mary Randleman Ferree. Mr. Ferree was one of the founders of the St. Paul Methodist Episcopal Church in 1879.