Before Randleman was Randleman
The story of "Before Randleman was Randleman" begins in the late 1700s to early 1800s when Peter Dicks (b.1771 – d.1843), from the community of New Salem, came down to Deep River and built a grist mill. People from all around brought their grains to the mill to be ground, and as they prepared to travel, they would say, "We're going to Dick's Mill." A small community began to grow around the mill and was referred to as Dicks.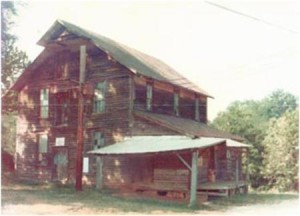 The grist mill continued to thrive, and around 1848 a cotton mill, Union Factory, was built nearby. The settlement then began to be called Union Factory.
In 1878, Naomi Manufacturing was built down river. The new mill built a dam in order to have water power and this lake interfered with the flow of water for the grist mill's wheel. The grist mill was moved downstream towards Naomi Falls and the Naomi Manufacturing plant around 1880. The textile industry continued to grow and so did the community surrounding it.
In 1876, a group of businessmen petitioned the legislature in Raleigh for incorporation. The town was named in honor of John Banner Randleman, early industrialist and superintendent of the Randleman Manufacturing Company. The request was granted, and the town was incorporated as the City of Randleman. Randleman continued to thrive as did the surrounding communities.
Back in the late 1700s, the county seat was originally located at what is now Browns Crossroads (near Randleman), but at that time it was called Johnstonville. Johnstonville boasted such luminaries as Andrew Johnson, who tried a court case in the court house, which was a small log building.
After a few years, the citizens in the lower part of the county complained that the trip to Johnstonville was too lengthy for them to comfortably conduct business on a regular basis. The courthouse was moved to Asheboro in 1780, and Asheboro became the county seat.